2017 Baseball Calendar
Click here for the calendar page. You can click on any month to download a printable PDF file.
Also, the schedules are posted. Note the links to baseball pages and site locations.
---
KO Baseball Tryouts!
Friday, January 27th and Saturday, January 28th

Must be there for both days of tryouts!
Basketball players will try out on Saturday, January 28th

Mandatory Information Meeting for anyone wishing to try out on January 18th right after school in the Teaching Theater.
Players must have a physical on file before trying out.

Physicals may be picked up from the training room.

Any questions contact Coach Hernandez rhernandez@kleinisd.net.
---

---

---

Kickball Tournament Postponed
... until Saturday, January 7th due to forecast heavy rains on the 3rd. Please bring your toys on Monday or Tuesday to Mrs. Kowis's room or Coach Burks' room.
---

---
NCAA Eligibility PowerPoint
Please click here if you hope to play at the next level!
---

---
Summer League
Kudos to all of our summer league teams. All three teams earned #1 seed rankings by having the best regular season record. Congratulations to our Prep team for winning the playoff to claim the championship! We're really proud of those players on our varsity group who played Klein for the championship last Friday also. It was a skeleton crew of 10 players but they battled Klein valiantly, tying the game 3-3 in the final inning befor falling 6-5 three innings later. Awesome effort, gentlemen! Thanks for your heart and just for being there on Friday of July 4th weekend.
Update on Thursday, 6/30 - Schedules below have been updated to new dates.
Teams will play a doubleheader each night, with the first pitch of game 1 at 6 pm. Each game has a 1 hour and 40 minute time limit.
Photos - JV vs. Willis 6-7-16 and Varsity vs. Collins 6-8-16, Prep Team vs. Klein, Prep Team vs. Oak Ridge, JV vs. Oak Ridge, Prep Team vs. Klein (Playoff on 6-27-16), Prep Team vs. Oak Ridge (Playoff on 6-29-16) and Varsity vs. Klein (Playoff on 7-1-16) are now posted. All images are free for players and family to download and use.
---

Summer Camp
Thanks, campers, for a great 1st day! And thanks for understanding that we couldn't get on the baseball field today due to conditions caused by the weather. Click here for photos from Monday!
Photos from Tuesday and Wednesday are now also posted, at the same link as above.
Photos from Thursday are now posted at the above link. A technical glitch has prevented me from uploading the photos of the relays practice segment of Friday's camp. If your webmaster gets that figured out I'll upload those later.
---


---

---

Rhett will be a member of the 6A North All-Stars. The game is scheduled for Tuesday, June 21st at 7 pm at University of Houston Cougar Field.
We're proud of you, Rhett!
---
Banquet Slideshows
---
End of Season Photos
Your photographer/webmaster has some work still to do, and I don't want you to miss the pictures, so here's what's coming:
Teacher Appreciation from April 26 - now posted here. Sorry for the delay. I was trying to get game pics in time for the banquet.
Playoff series vs. Kingwood - Game 1, Game 2 and Game 3 - Everything is now posted. Unfortunately, that's everything from the Panthers magnificent 2016 season. Can't wait until February! The best is yet to come!
---

---
The Class of 2016 - a tribute!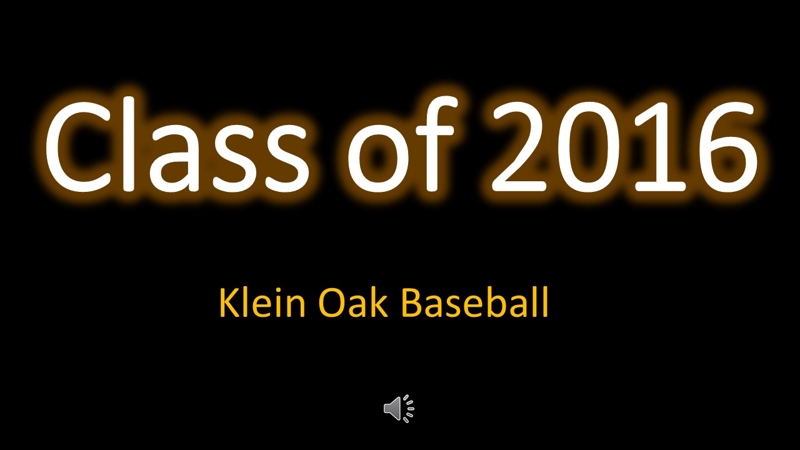 ---
Banquet is Tuesday, May 10th at 6 pm at the Klein MPC.
---
Season ends too early in game 3 loss at Kingwood.
Thank you, Panthers, from a greatful fan, for a great season! You were way better than any of us had any right to expect when this season began. You finished with a record of 17-9 after playing a grueling schedule. In that stretch you run ruled The Woodlands and became the first KO varsity team to beat Klein twice (by a combined score of 20-2), and finished 2nd in a tough baseball district. So despite the loss in bi-district to a fine Kingwood team this was a great and memorable season. We love you guys. Thanks for the memories!
The Panthers had to win game 2. Thanks to an amazing performance on the mound by Panther Sophomore Ben Content, they got that done. It didn't look good in the 2nd inning as the Panthers surrendered 3 runs on what should have been a fly ball out. That fiasco would have rattled most pitchers; Ben didn't flinch. He got out of that inning and threw 0s on the board in the 3rd, 4th, 5th, 6th and 7th innings. Ben threw well over 100 pitches and allowed just 2 earned runs on 7 hits, 0 BBs with 6 Ks. It was just the latest incredible performance by this smart, mature and poised Panther sophomore. Thank you, Ben, for giving KO Baseball our first playoff win since 2012!
Of course Ben had some help from his friends. Junior Jackson Dietel had a single and a double with 2 RBIs. Senior Billy Summers singled and doubled with 1 RBI. It was a great team win in game 2. Panthers win 6-3!
Senior Andrew Morgan definitely gave his team a chance to win in game 3. He allowed just two earned runs in 4.2 innings on 5 hits and 2 BBs with 2 Ks. But the Panthers couldn't figure out the Kingwood pitcher, who was amazingly consistent in throwing 80 mph fast balls. It looked like the Panthers would eventually catch up with that but it never happened. The final score was Kingwood 5, KO 1 and the season was over.
---
Panthers' comeback falls short in 6-4 loss in game 1.
The most honest thing to say about this game is that the Kingwood Mustangs deserved the win. They were just outstanding all night, especially pitcher Sean Rydell. He had a tough bottom of the 7th inning, when the Panthers scored three to tie it and send it to an extra inning. But the Panthers just couldn't hit him in innings 1-6 or the 8th. So congratulations to those guys on the game one win.
The Panthers on the other hand looked a little nervous. OK, a lot nervous. And that made them not nearly as effective as they usually are. Panthers, you just need to go to Kingwood tomorrow and be yourselves. That's plenty good enough to claim a pair of wins on Saturday and extend your amazing season.
Game 2 is at 2 pm at Kingwood H.S. Be there, Panther fans, and watch the real Klein Oak Panthers doing what they do best. We believe in you, Panthers!
Note: Despite the TSRN announcers attributing the comments above to "post game comments by Coach Hernandez" all of the words on this website are from your webmaster - Gary Nelson. Anything from Coach Hernandez will be specifically attributed to him.
---
Panthers vs. Kingwood - Bi-District Playoff
Game 1 - Friday at 7 pm at Panther Field
Game 2 - Saturday at 2 pm at Kingwood (click for map)
Game 3 (if needed) - follows game 2 by 30 minutes
Playoff program is pictured below. This will be a folded booklet. Click here for a PDF.

---